Joe Gaiter: What does football mean to you?
Tra Fletcher: Football for me is actually my second favorite sport. I am a hooper. I have uncles and cousins who have played in college and NFL. Hall of Famer Cortez Kennedy is actually my cousin so I knew football was in my blood .My dad Chico Fletcher who is famous for his career at Arkansas State is the reason I play the two sports. My first love is basketball but football gave me more opportunities so I ran with the opportunity. I grew to love football though because it taught me patience. I always thought I can play at the next level if I worked hard for what I wanted. Football is more than just football now. It builds character and can teach you life lessons along with created unbreakable binds with people who have your same dream.
Joe Gaiter: How did your time at McEachern make you the man you are today?
Tra Fletcher: My time at Mceachern High school actually made me who I am today. I was the 19th prospect out of Georgia and tested well on ACT and SAT and maintained a 2.8 GPA.  I never got in trouble and I had no offers out of high school. Not a single school wanted me and I could not believe why. I spent nights and night crying about this matter and did not understand why I was going through this because every night I played my heart out on the basketball court and the football field. I played varsity basketball as a freshmen to senior and started sophomore year to senior year in football so to this day I still do not know why I had to go through that but it was God's plan. That made me grind, that made me hungrier and that why I have not given up on my dream because I knew God was testing me.

Joe Gaiter: What are your some of your fondest memories at West Alabama?
Tra Fletcher: My time at West Alabama was one of the best of my life. I will say that one of the beat teams West Alabama has in those years I was there. The most favorite memory is of course winning the GSC Conference because that was the first ring I won and actually contributed. I had won a ring with Arkansas State in 2013 as a walk on but I did not contribute so that's something I can always look back on. The second memory is my game winning touchdown against West Ga to secure the ring that season. I made like 8 people miss and that atmosphere was something I can never forget.
Joe Gaiter: What makes you a great receiver?
Tra Fletcher: Right now myself I may be great to a lot of people but to me I'm average. I still have things I need to work on and that's me holding myself to a high standard. I can say that I am smart. Playing slot receiver is similar to Qb for receivers because of the more things I have to read. My time at west helped me understand those things and being a student of the game. I am not the fastest for my height but I have game speed if that make sense. I am a playmaker who has always be known for making plays as a little one .My determination and ambition and want to which is something you cannot teach makes me a great receiver.
Joe Gaiter: West Alabama always has a nice squad. Do you feel like they don't get the credit and publicity like they should?
Tra Fletcher: Yes sir! West Alabama will always have a decent squad and yes along with every D2 school. I feel like we get looked over because of the division but some of the beat players come from D2 schools and I agree they do need more publicity because we have the players we just get looked over because of the "D2". Some D2 schools can beat some D1 teams.
Joe Gaiter: Tell us about your team and the vital role you play on it?
Tra Fletcher: The team I play on now in Brazil is very interesting. Some players want it more than others. Some do this for fun but some do this because they actually want to get better. I play the leader role and the person who trying to change the environment here so the game can mean something to everybody. They brought me here to make plays and give more insights on the game. I try to coach everybody up I supply drills and knowledge to those who want it. I hope to leave here and create a better football atmosphere for this team so that they can be successful in long run.

Joe Gaiter: You made history as the first player coming directly from the USA to Brazil to play. How have you dealt with the cultural adjustment?
Tra Fletcher: The culture is very different but I also embrace it .I always dreamed to play overseas as a kid and to be living what I dreamed is overwhelming. So even if something goes wrong, I just remind myself it's a blessing to be here so nothing really fazes me.
Joe Gaiter: Your return touchdown won the game for you against the Sorriso Hornets F.A. What was going through your mind when the ball was in your hands?
Tra Fletcher: Before the kick return we were winning 18-15 until the interception that put them up with seconds left in the game. I knew I was going to make a big play I just did not know when. Kick returns is something other leagues need so I knew this was the time. As soon as he scored the interception I looked at all my players' faces and they were crushed. I knew we had never beaten this team in all the times that they have played them so I knew this was the time. Before the kick I told God this is the time. This is why they brought me here and I said "I can do all things who strengthens me and my drive cannot be slowed down ". I asked God to help me make a play. I caught the ball and just let God handle the rest.
Joe Gaiter: Was it hard adjusting from college ball to overseas?
Tra Fletcher: In America we are more advance so the hard part is really coaching and critiquing myself to be better. I do not have a wide receiver coach in my ear so that helps me on the coaching side to study what I'm doing and study what I am doing wrong. I feel like I can adjust to anything I put my mind too.
Joe Gaiter: What is your advice for a football player who is about to give up on their dream?
Tra Fletcher: To any football player out there who is ready to give up, I just say keep pushing man. I did not have offers out of high school. I have been cut from teams, went to every CFL try out did not make it. I sat out for two years after leaving West Alabama not working a job but just training and working on my craft. I knew I did not go through everything I went through for nothing so I just kept my faith in myself and with God. Teams overlooked me and told me they chose another guy over 100 times and that just motivated me more. I even had a coach tell me to hang up my cleats. Even this team signed another player but the player did not sign. After they told me they signed another player I instantly went to my mother and just cried. It was at this moment I was about to return to the basketball court and give up football. I spoke with god crying my eyes away and asked him to show me the way.  Two days later this same team called me and said the player they wanted did not sign with them and I instantly ran with the opportunity. I was down on my last and was ready to hang up my cleats. God saved me and that's why everything I do I thank him.

Joe Gaiter: What is your motivation?
Tra Fletcher: My motivation is my family. My mom, my dad, my brothers and sisters are all my motivation. Being overlooked is also my motivation. That's fuel to my fire. When somebody tells me I can not do something I instantly get motivated. My mom works doubles like it's nothing. My dad did not get to live out his dream because of life threatening car wreck and my brothers and sister all had the same dreams I have we all play sports but I am only one playing football. I want to win for them and myself for everything that has gotten me to this point.
Joe Gaiter: What do you want your legacy to be?
Tra Fletcher: I want my legacy to be remembered as the kid that never gave up and looked adversity in the eye. I have done everything I put my mind too. I walked on to Arkansas State when Gus Malzohn was there but left when he went back to auburn. I tried to get into easy Mississippi after I left Arkansas state but I needed more credits so I had to go back to Arkansas state to get my grades right . Everything was going bad. I did not know what to do. After I got my grades right I sat out a semester and moved with my uncle in Texas. I worked and trained and also attended try outs in Texas at Kilgore but did not make the team.  After I stayed out semester I got call from Dean College in Massachusetts. I told myself I was going to earn my own scholarship. While I was there the whole time I did not know I only had one year of D1 eligibility left so that's when I chose to go to West Alabama  but I was about to attend Delaware university. This was the year after Tyreik Hill had left. I found out him and Malcolm Butler attended and I had two years so I ran with it. After West Alabama, I did not test as well as I wanted too because I am not a good tester meaning at pro day. I got invited to bowl game and my school did not even know I just networked myself. I played well and met a lot of players who in the same boat as me. The game was on 2018 of January and that was last college game I played. From there I just trained and network myself to where I am today. With all of that, I just want my legacy to be remembering and teach other players if they want to do something do it. Do not worry about what others have to say just stay focus and work your plan.
Joe Gaiter: Final words?
Tra Fletcher: Lastly, I just want to say anybody in the world can do whatever they put they mind too. God works in mysterious ways. He may not show up when you want him to but he shows up right on time.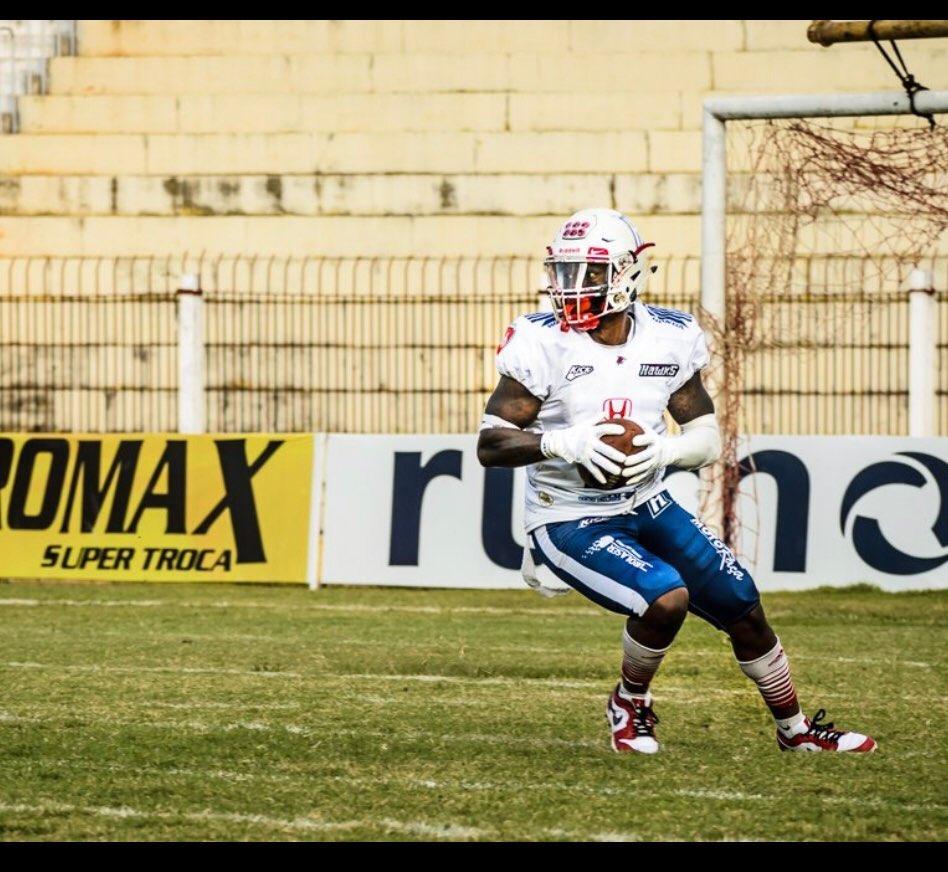 Joe Gaiter:  Shoutouts?
Tra Fletcher: I want to shout out my mom Chaka Simmons, my dad Chico Fletcher, my brother Warrick Woodson and King and my sisters Taylor and Imani. I also want to shot out to my nephews Junior and Deshawn and everybody who believes in me and who I call my brother. Also, everybody who has love for me and all the kids who in my same position.
Follow me on Facebook Tra Fletcher and my IG: igotplans__tf3 Twitter : Igotplans__TF3